The infamous PlusToken Ponzi scheme is back in the crypto news once again. The reason: its inactive Ethereum wallet has become active again as the scammers attempt to liquidate what they stole.
The crypto community was first alerted of PlusToken's return when a crypto account tracker revealed earlier this week that 789,534 ETH had been transferred into an "unknown wallet." The coins were worth around $190 million at the time.
At first, this wasn't seen as much of a problem. But since the initial transfer, the coins have begun to get "mixed." This is a seeming attempt by the crypto scammers to liquidate the massive stash of Ethereum.
The PlusToken operators are mixing millions of dollars worth of Ethereum
In June and July of 2019, the PlusToken Ponzi, which promised their victims interest on their deposits of Bitcoin, Ethereum, XRP, and other cryptocurrencies, collapsed.
After purportedly collecting billions of dollars ($2-4 billion, depending on who you ask and when), the operators exited. Addresses affiliated with the hack contained a message along the lines of "we have run."
Authorities quickly arrested six Chinese nationals in Vanuatu, purported to be ringleaders of the scam.
But that wasn't the end of it. The remaining operators liquidated hundreds of millions worth of Bitcoin in late-2019 and the start of this year.
And now, they're trying to do the same to their Ethereum stash.
Cryptocurrency researcher "Frank Topbottom" noted that PlusToken is now "mixing" their Ethereum stash. Mixing is a term used to describe the act of sending blockchain transactions in a way to try and obfuscate the origin of funds.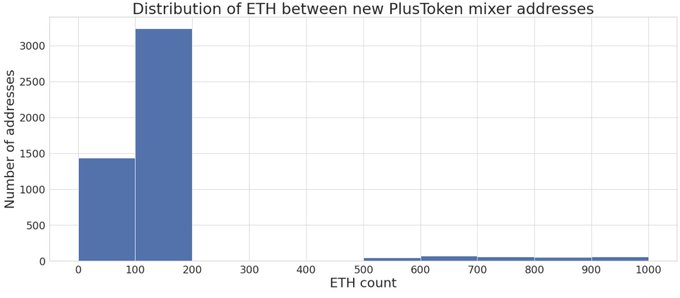 His analysis found that PlusToken's mixer has made five "hops" thus far, using 4,967 addresses in the process.
There are now 3,813 addresses with an average of 140 ETH between them, according to Frank. That's $170 million worth of the second-largest cryptocurrency sitting in addresses waiting to be deposited into exchanges, then sold.
The analyst expects further mixing into smaller sums — perhaps pockets of 10-50 ETH to fly under the radar of most exchanges.
They can still be stopped
Yet not all hope is lost: on-chain analysts and anti-money laundering firms have become increasingly proficient at tracking coins through mixers.
On-chain analyst "Ergo" has produced work over the past year showing mixed Bitcoin being sent by PlusToken into exchanges.
The issue is, mixing is currently best suited for smaller sums. If hundreds of millions of dollars are deposited in exchanges by one entity, one can sift through blockchain data to find the originator.
If exchanges properly identify that coins — whether that's Bitcoin or Ethereum — they receive are from illicit sources, they can be frozen, preventing them from being sold on the market.
The same can be said about this $170 million worth of Ethereum from PlusToken.
But whether the exchanges that receive the tokens act on the information — if they have that information at all — remains to be seen.
The post $170m in PlusToken Ethereum is now "mixed" but not all hope is lost appeared first on CryptoSlate.
——————–
By: Nick Chong
Title: $170m in PlusToken Ethereum is now "mixed" but not all hope is lost
Sourced From: cryptoslate.com/170m-in-plustoken-ethereum-is-now-mixed-but-not-all-hope-is-lost/
Published Date: Sat, 27 Jun 2020 08:00:49 +0000