It may sound like a broken record at this point but Chainlink (LINK) has seen extremely strong price performance over the past few months.
At the all-time highs established during Jul. 15's trading session of $8.91 (according to CryptoSlate data), the community-favorite altcoin was up by almost 500 percent from its March capitulation lows around $1.50.
Data suggests that the ongoing move higher is being backed by true buying volume.
Market volume for Chainlink surmounts that of Ethereum during a stunning rally
After a retracement early this week, LINK surged back during the trading sessions of Jul. 14 and 15, setting new all-time highs above $8.00.
According to Qiao Wang, a prominent cryptocurrency commentator and Bitcoin trader, the surge was marked by a massive influx of volume on leading digital asset exchanges:
"Update: Chainlink just surpassed Ethereum in terms of 24-hour trading volume. Link marines have memed it into the single most successful non-base-layer, non-stablecoin cryptoasset ever. This is so incredible."
Qiao Wang cited data from Messari (his former employer), which indicated that of the legitimate exchanges it tracked, 24-hour volume for LINK at a point reached $473 million, 50 percent higher than Ethereum's $315 million at the time.
That's to say, at a point on Jul. 14, Chainlink was the third-most traded cryptocurrency in the entire market, despite it only holding the spot of the eighth-largest cryptocurrency.
Considering the price action and analyses of LINK order books by on-chain analyst Cole Garner, this price action was seemingly skewed on the bid side.
Not the only bullish LINK metric
Chainlink's booming market volume isn't the only metric of the cryptocurrency reaching notable levels.
The chart below is from Glassnode, a blockchain analytics firm. It shows that through all the volatility over the past few months, the number of addresses holding LINK has consistently been growing, with few impediments.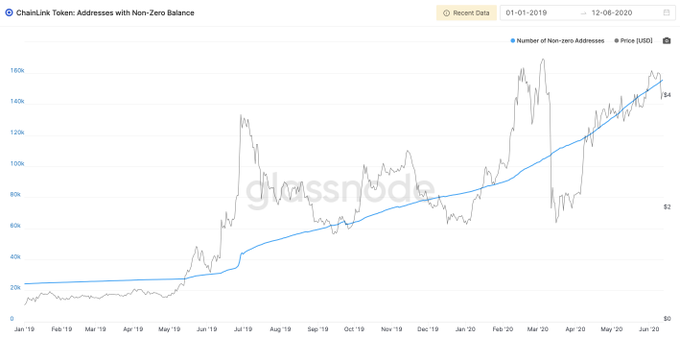 Commenting on the chart, CryptoSlate's Cole Petersen recently wrote on Twitter:
"#Chainlink's steady march higher has been driven by a combination of new investors purchasing tokens and veteran investors increasing their exposure. Think of this as the coal that helps fuel the fire… It shows that the multi-year price rise *has been* sustainable."
The influx in LINK adoption comes on the back of a number of partnerships, including those with Nexo, Huobi, and the state-sponsored China Blockchain Service Network.
Chainlink is also benefiting from an influx of press and attention, spurred by the asset's loud proponents, new supporters like Morgan Creek Digital's Jason Williams, and other groups and entities.
There's also been a spike in LINK withdrawals from exchanges, Glassnode recently elaborated. The firm says that this suggests there is a "meaningful contingent of LINK holders who intend to start and/or keep hodling for the time being."
These metrics, coupled with other trends, have made certain analysts extremely optimistic about the future of Chainlink. One popular crypto derivatives trader, for instance, commented:
"If Bitcoin does not ruin the party, there is no reason why LINK does not continue on into double digits. It would be conservative even, considering we just broke out of a major range. 20$ + LINK would not surprise me at all."
The post After 500% rally, Chainlink (LINK) just passed Ethereum in this crucial metric appeared first on CryptoSlate.
——————–
By: Nick Chong
Title: After 500% rally, Chainlink (LINK) just passed Ethereum in this crucial metric
Sourced From: cryptoslate.com/after-500-rally-chainlink-link-just-passed-ethereum-in-this-crucial-metric/
Published Date: Thu, 16 Jul 2020 19:00:49 +0000