The recent narrative is that Bitcoin is now correlated with the price of gold. From a fundamental perspective, analysts say this makes sense; both BTC and the precious metal are extremely scarce assets that aren't controlled by a central authority and can be 'found' by anyone with the right materials.
A prominent cryptocurrency analyst, though, is certain that the real correlation that Bitcoin has is one with the S&P 500, the leading equities index in the U.S. Although this may be bad for the narrative that BTC is an uncorrelated asset, the analyst says that the existence of the correlation is actually a bullish trend for cryptocurrencies.
How the S&P 500 and Bitcoin correlation could work out in BTC's favor
According to pseudonymous crypto analyst "PlanB," who manages a multi-billion-dollar book for a European institution, Bitcoin is correlated with the S&P 500 on a macro scale.
He pointed to three separate retracements in the value of BTC, noting how they occurred at the exact time the value of American equities dove lower. These three retracements are as follows:
The Q1 2018 drop in response to rising trade tensions between the U.S. and China.
The Q4 2018 drop in response to the Federal Reserve allowing its balance sheet to begin to unwind by stopping the quantitative easing process.
The Q1 2020 drop in response to the pandemic spreading, which resulted in a temporary liquidity crisis that was eventually resolved by the central banks of the world.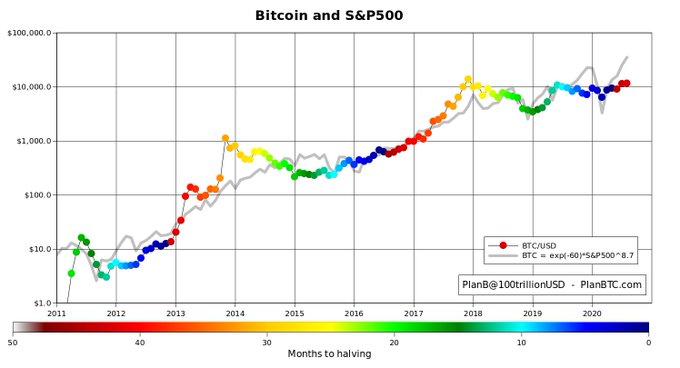 As to why this correlation is bullish for Bitcoin, the analyst explained that it means that if governments and central banks continue to pump fiat into the system, stocks and cryptocurrency will rise in tandem.
Because stopping the "liquidity pump," as Galaxy Digital's Mike Novogratz has described central bank stimulus, would likely lead to a large retracement in all assets, causing societal and political distress, the money is unlikely to stop flowing any time soon.
BTC likely to outperform equities, other markets: analysts
Although the S&P 500 and Bitcoin may be correlated in terms of their trends and overall directionality, that's not to say BTC will not outpace equities or other asset classes.
Raoul Pal, the chief executive of Real Vision and a former head of European hedge fund sales at Goldman Sachs, said that he thinks the fundamentals and technicals show that Bitcoin will be the best-performing asset of the next two years by a large margin:
"In fact, only one asset has offset the growth of the G4 balance sheet. Its not stocks, not bonds, not commodities, not credit, not precious metals, not miners. Only one asset massively outperformed over almost any time horizon: Yup, Bitcoin.

My conviction levels in bitcoin rise every day. Im already irresponsibly long. I am now thinking it may not be even worth owning any other asset as a long-term asset allocation."
The post Analyst: S&P 500 and Bitcoin are macro correlated but that's not a bad thing appeared first on CryptoSlate.
——————–
By: Nick Chong
Title: Analyst: S&P 500 and Bitcoin are macro correlated but that's not a bad thing
Sourced From: cryptoslate.com/analyst-sp-500-and-bitcoin-are-macro-correlated-but-thats-not-a-bad-thing/
Published Date: Mon, 24 Aug 2020 09:20:28 +0000