Countless crypto assets have been on a tear over the past few weeks. Assets such as Band Protocol (BAND), Synthetix Network Token (SNX), Cosmos (ATOM), and even large-cap altcoins such as Cardano (ADA) and Chainlink (LINK) are up dozens of percent in the past week alone.
Yet XRP, the fourth-largest cryptocurrency by market capitalization and a fan-favorite digital asset, has not benefited from the recent price action.
According to CryptoSlate data, XRP was trading four percent higher on the first day of June than it is as of this article's writing, on Jul. 14.
An analyst has branded this price action "remarkable."
XRP's inability to rally is striking
According to Nic Carter, a partner at Castle Island Ventures and the co-founder of crypto analytics firm Coin Metrics, "The fact that XRP hasn't participated in this rally at all is remarkable." 
He added that from a macro perspective, the crypto asset has actually been in a downtrend in both Bitcoin and U.S. dollar terms for over two and a half years. This is in reference to the fact that since the 2018 blow-off top above $3.00, the asset has established a series of lower lows and lower highs. As reported by CryptoSlate previously, research firm Weiss Crypto Ratings said on XRP's macro downtrend:
"It keeps making lower highs and lower lows, with the most recent low being as early as May of this year."
Carter partially attributed XRP's inability to rally amid these market conditions to the purportedly high inflation rate of the asset's circulating supply.
He shared the chart below from his company's data, which suggests that XRP's circulating supply is around 16 percent — 780 percent higher than that of Bitcoin and around triple that of Ethereum. Carter explained:
"Keep in mind that due to vesting and founder sales XRP's annualized issuance rate as of today based on 2020 pacing is 16%. Just a ton of supply the market has to absorb."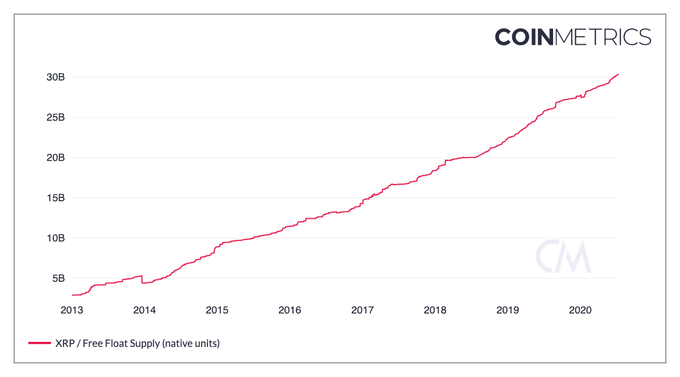 Room to fall, analysts say
The cryptocurrency has room to say, some commentators have said.
One pseudonymous trader, known for making accurate calls in the Bitcoin market, recently said that XRP could drop to 1,500 satoshis. This would mark a more than 25 percent drop in the altcoin's current price against the market leader.
This bearish expectation can be corroborated by data.
XRP's on-chain transaction volume has recently been waning, reaching lows after a spike a few months back.
Adding to the downside risk, it was recently reported by on-chain analysts that XRP owned by the PlusToken Ponzi scheme may be moving to exchanges, suggesting these coins will soon be sold.
The post Analyst: XRP's inability to rally as many altcoins go parabolic is a "remarkable" feat appeared first on CryptoSlate.
——————–
By: Nick Chong
Title: Analyst: XRP's inability to rally as many altcoins go parabolic is a "remarkable" feat
Sourced From: cryptoslate.com/xrps-inability-to-rally-as-many-altcoins-go-parabolic-is-a-remarkable-feat/
Published Date: Wed, 15 Jul 2020 13:00:49 +0000