In 2017 and 2018, Bitcoin proponents coined the term "the institutional herd" to describe the flood of Wall Street investors and companies that were then expected to grace the cryptocurrency market.
That "herd," at least in 2017 and 2018, never arrived. Most executives and analysts in the space say that back then, most price action was driven by retail investors — individuals like you or myself, not the billionaires of the world.
This, though, has rapidly changed. Derivatives data now shows that an increasing number of institutional investors are investing in the Bitcoin space. And chances are, this trend of institutions entering crypto is set to continue well into the future.
The institutional herd has finally entered the Bitcoin market
Over the past few months, there's been a concerted shift in the Bitcoin derivatives market from crypto-native platforms like BitMEX, Huobi, Deribit, and OKEx to the CME Group, the world-famous derivatives exchange.
Travis Kling, the CIO of crypto fund Ikigai, shared the table below on Aug. 17. It shows that while capital has exited the aforementioned crypto-native exchanges, the CME has seen a strong uptick in investment. There is now $874 million worth of BTC futures and options contracts open at the CME, a metric up $536 million from the middle of February (the previous year-to-date highs).
Kling says that this is a sign the institutional herd is here:
"BTC futures Open Interest hit a new ATH today. The ATH prior to Black Thursday was Feb 15th. Note the changes in market share of OI. We've been talking about The Herd coming for so long its become a meme. But without a doubt, this is actually The Herd and its wildly bullish."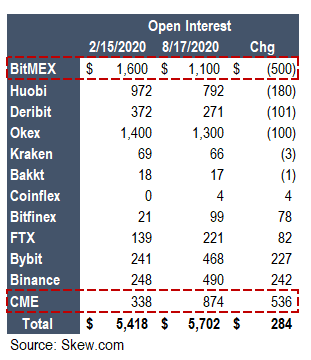 The movement in the options market isn't the only sign showing that there are institutions entering the Bitcoin market.
Digital asset fund manager Grayscale Investments recently reported that it now has $6 billion worth of assets under management. This is a new all-time high for the institutional-focused crypto firm.
This comes as Paul Tudor Jones, a billionaire hedge fund manager, and George Ball, the ex-CEO of Prudential, have promoted Bitcoin as potential stores of value in the ongoing macroeconomic environment.
There are more institutions set to enter
There are more institutions set to enter. $2 trillion asset manager Fidelity Investments reported earlier this year that 36 percent of institutional investors have exposure to the crypto market, with many of these firms owning either Bitcoin or Ethereum.
Fidelity also found that 80 percent of that same group find at least one thing appealing about the crypto market.
The post Bitcoin derivatives data shows the institutional "herd" is finally here: fund manager appeared first on CryptoSlate.
——————–
By: Nick Chong
Title: Bitcoin derivatives data shows the institutional "herd" is finally here: fund manager
Sourced From: cryptoslate.com/bitcoin-derivatives-data-shows-the-institutional-herd-is-finally-here-fund-manager/
Published Date: Wed, 19 Aug 2020 15:00:33 +0000