Two weeks ago, two Goldman Sachs executives came out strongly against Bitcoin in a client call.
Slides leaked from that call showed that the individuals did not recommend the asset "on a strategic or tactical basis" due to the fact that the asset does not generate cash flow or earnings, does not provide diversification benefits, and is heavily volatile.
Yet this hasn't stopped other institutional players from entering the Bitcoin markets, with data showing that the biggest institutional market for BTC is about to flip a crypto market cornerstone.
CME Bitcoin market explodes as institutional demand picks up
The CME's Bitcoin futures market — which is mostly used by institutions or professional traders due to the high minimum contract sizes of five coins — has seen parabolic growth since the start of the year.
So much growth that the open interest in CME Bitcoin futures contracts is approaching that of BitMEX, the incumbent leader in crypto derivatives.
"More evidence for the 'institutionalization' of Bitcoin. CME Bitcoin Futures Open interest is fast approaching BitMEX's XBTUSD.  CME Open interest up 310% in 2020 alone," digital asset manager Charles Edwards explained.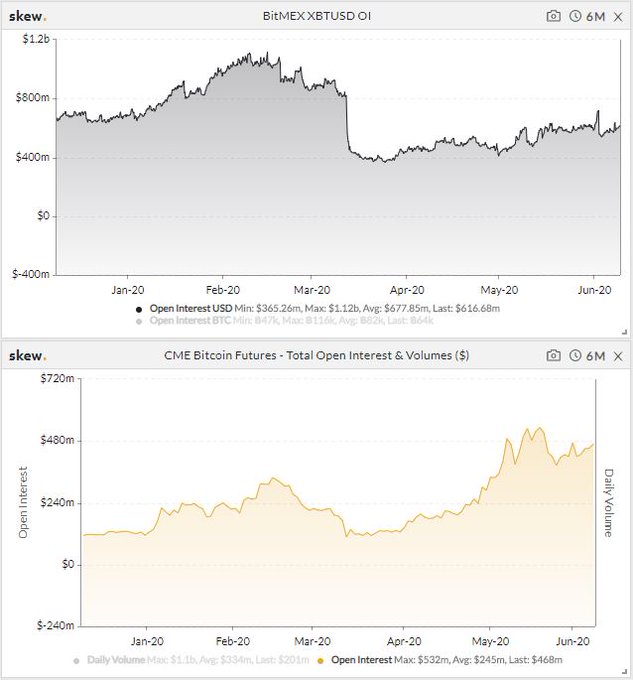 The CME's options market has also seen an explosion in demand for Bitcoin, cementing the institutionalization of this nascent market.
According to cryptocurrency data publication Ecoinometrics, there is now around $300 million worth of Bitcoin call options open through the CME. This is up from $10-20 million two months ago.
Call options are financial contracts that give the holder the option to purchase an asset at a specific price on a specified date/within a time period. They're used by traders who want to position themselves to benefit from an asset appreciating in value.
Notably, there is only a few million dollars worth of Bitcoin put options (the opposite of calls) open through the CME, suggesting that institutions are heavily bullish on the lead cryptocurrency.
Institutions want crypto
The parabolic increase in the open interest in the CME's Bitcoin market is reflective of a wider disposition amongst certain institutional players to gain exposure to cryptocurrency.
As reported by CryptoSlate previously, $2 trillion asset manager Fidelity Investments revealed that a survey they ran alongside a partner found:
" that digital assets continue to gain adoption and interest by a variety of institutional investors."
This demand is already materializing in the form of inflows to Grayscale Investments, the digital asset investing arm of Digital Currency Group. The firm's flagship product, the Grayscale Bitcoin Trust, has seen so much demand that Grayscale — a single firm on behalf of a small set of clients — is purchasing more BTC than is being mined.
62,972 Bitcoin has been added to Grayscale's Bitcoin Trust over the past 12 weeks.

Over the same time frame, 125,368 BTC was mined.

Institutional investors are accumulating vast amounts of Bitcoin. Now add exchanges and the halving into the mix. pic.twitter.com/zueQphXXfl

— Nick Chong (@_Nick_Chong) June 8, 2020
The post CME Bitcoin futures open interest is up 310% in 2020: Wall Street wants BTC appeared first on CryptoSlate.
——————–
By: Nick Chong
Title: CME Bitcoin futures open interest is up 310% in 2020: Wall Street wants BTC
Sourced From: cryptoslate.com/cme-bitcoin-futures-open-interest-is-up-310-in-2020-wall-street-wants-btc/
Published Date: Wed, 10 Jun 2020 22:30:17 +0000