In 2017 and 2018, Ethereum seemingly had one purpose: it was a platform for crypto entrepreneurs to launch initial coin offerings.
As Avi Felman, the head of trading at BlockTower Capital, recently wrote on Twitter:
"The ETH all time high price [of $1,400] is likely a red herring, and was driven by a very specific dynamic: buy ETH to place in ICOs, no sell pressure because ICO treasuries didn't think about that."
Yet with the recent growth in decentralized finance — better known as DeFi — analysts are coming to the conclusion that Ethereum actually has a killer use case.
DeFi is giving Ethereum "real value": Weiss Crypto Ratings
Due to DeFi, the level of network activity on Ethereum has dramatically spiked.
Blockchain analytics firm Santiment reported late in June that the number of new ETH addresses being created each day has just "crossed above 100,000 again."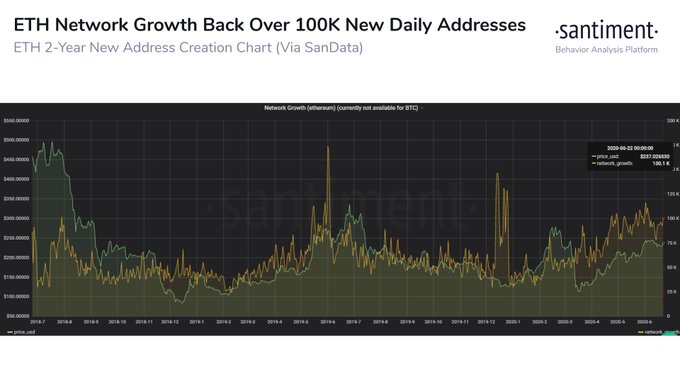 The count of transactions, too, has continued higher. According to Etherscan, there were multiple days in the past week during which 1,000,000 ETH transactions were processed.
Market research firm Weiss Crypto Ratings wrote on Jul. 2 on this extremely strong network growth:
"Activity on the Ethereum blockchain is nearing levels not seen since the peak of the ICO bubble. ETH withdrawn from exchanges has hit a six-month high. It's obvious that this activity is related to DeFi."
On why this is important, Weiss Crypto Ratings explained that DeFi is "giving real value to the Ethereum blockchain, unlike anything we've seen before."
"Forget CryptoKitties, forget gaming — DeFi is where it is at," the firm concluded.
ETH hasn't benefited from DeFi… yet
Although DeFi is clearly driving Ethereum adoption higher and giving the blockchain more fundamental value, ETH has yet to benefit.
As can be seen in the chart below, the second-largest cryptocurrency has stagnated over the past few weeks. Over that time frame, ETH has been trapped between $220 and $250, barely deviating from that range.
The cryptocurrency is seemingly ignoring the fact that over the past few weeks, DeFi and altcoins related to the sector have exploded higher. CryptoSlate sector data indicates that in the past 24 hours alone, DeFi coins are collectively up by 4.6 percent.
Interestingly, there are some coming to the conclusion that Ethereum may not catch up to DeFi.
As reported by CryptoSlate previously, crypto-asset analyst Ryan Watkins said that there's no reason for ETH to rally as DeFi tokens go parabolic.
He primarily cited the growth in stablecoins like Tether's USDT and MakerDAO's DAI, which allows investors to "bypass native crypto assets like ETH for their speculative fervor" to access DeFi.
Watkins shared the image below displaying this point:
The post Crypto research firm: DeFi, not CryptoKitties, is giving "real value" to Ethereum appeared first on CryptoSlate.
——————–
By: Nick Chong
Title: Crypto research firm: DeFi, not CryptoKitties, is giving "real value" to Ethereum
Sourced From: cryptoslate.com/crypto-research-firm-defi-not-cryptokitties-is-giving-real-value-to-ethereum/
Published Date: Sat, 04 Jul 2020 03:00:00 +0000