Of all leading cryptocurrencies, Chainlink (LINK) has seen some of the strongest adoption-related news over recent weeks.  Multiple reports have been released about the project's oracles — its flagship product — being integrated by prominent firms and blockchains in the industry.
This strong fundamental trend has been met with a surge in the altcoin's price. According to CryptoSlate data, LINK is now pushing its all-time high of $4.95, trading at $4.75 as of this article's writing.
Unfortunately for holders of the crypto asset, a crucial on-chain metric suggests that the ongoing rally may not be sustainable.
LINK could be subject to a correction, warns blockchain analytics firm
Blockchain data firm Santiment reported on Jul. 5 that Chainlink is printing a worrying sign: LINK's market value to realized value (MVRV) ratio is at an all-time high value.
This means that "almost everyone holding LINK is in profit," which is purportedly a "dangerous" sign. The insinuation is that because there is so many investors in profit, there is likely to be a sell-off as holders want to secure profit.
Data from Glassnode, another blockchain analytics firm, seemingly corroborates Santiment's bearish tone.
The company released the chart seen below on Jul. 5, showing that there has been a massive influx of LINK into Binance wallets sent in 5,000 different transactions:
"Based on our exchange data, yesterday we observed almost 5,000 LINK transfers onto Binance wallets. This resulted in a daily net transfer volume into the exchange of more than $16 million USD worth of LINK – the largest we've seen so far."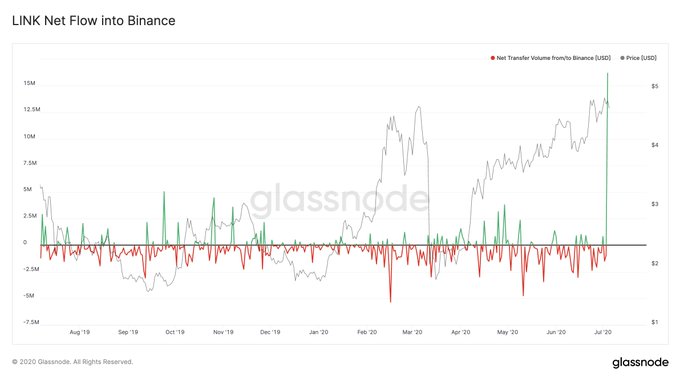 It isn't clear what happened to these coins afterward, but a holder of LINK can really only do one thing when sending their crypto to exchanges: sell.
A recap of Chainlink's bullish developments
Even if LINK corrects, that doesn't take away from the fundamental developments that the underlying Chainlink project has recently seen.
As reported by this outlet previously, leading crypto-asset exchange Huobi revealed that it will be leveraging Chainlink nodes by integrating it into its wallet service. Huobi added that it will integrate its exchange data into Chainlink, allowing developers to leverage that data in smart contract applications.
China's Blockchain Service Network, the BSN, has also integrated Chainlink's oracles. The network, which is in line with China's pro-blockchain policy, is operated by China's State Information Center, China Mobile, China Unionpay, and Red Date Technologies.
The post Despite Chainlink adoption, a crucial LINK metric is reaching "dangerous" levels appeared first on CryptoSlate.
——————–
By: Nick Chong
Title: Despite Chainlink adoption, a crucial LINK metric is reaching "dangerous" levels
Sourced From: cryptoslate.com/despite-chainlink-adoption-a-crucial-link-metric-is-reaching-dangerous-levels/
Published Date: Mon, 06 Jul 2020 10:00:11 +0000