In 2018 and 2019, cryptocurrency investors were almost solely focused on Bitcoin.
As reported by CryptoSlate previously, a prominent industry data analyst noted that Bitcoin has rallied around 150 percent since Dec. 30, 2018, while the median performance of the top 200 altcoins has actually been negative over that same time frame.
With this in mind, he claimed that the best investment strategy was (and potentially still is) to hold Bitcoin and promising altcoins that have a small market capitalization, and thus, a chance to grow.
Yet this is changing: analysts are starting to see potential in Ethereum, claiming that the cryptocurrency is poised to rally against the market leader as the technical and fundamental picture hints at impending growth.
Ethereum poised to break higher against Bitcoin, analysts say
Alex Fiskum, investment associate at crypto-friendly fund Alice Capital (it funds/runs Token2049), recently shared the below chart to Twitter, showing that he expects for Ethereum to soon break out higher against Bitcoin.
That's to say, he soon expects one ETH to buy more BTC than it could before.
He noted that the asset is trading in a three-year falling wedge, which is a textbook bullish pattern, while momentum indicators are printing divergences against the trend of Ethereum, suggesting underlying strength:
"ETH/BTC 3-year falling wedge printed with oscillators showing major divergences and upwards momentum."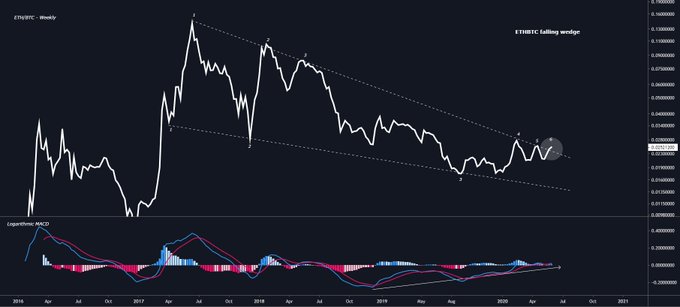 It isn't only Fiskum who expects Ethereum to make moves against Bitcoin in the near future.
Raoul Pal, chief executive of Real Vision and a former executive of the Bitcoin-bearish Goldman Sachs, said after ETH's extremely positive price action over the past two weeks that he thinks the altcoin will soon outperform the market leader.
"It even looks like Ether will outperform Bitcoin at some point (no position yet). Please remember: No tribal attacks about bitcoin vs ethereum. They are two different things and two different ecosystems."
Pal announced earlier this year that he's become "increasingly bullish on Ethereum," calling the asset is "silver to Bitcoin's gold." He cited the growth in decentralized finance, echoing comments he made how cryptocurrencies will become core to the next financial system.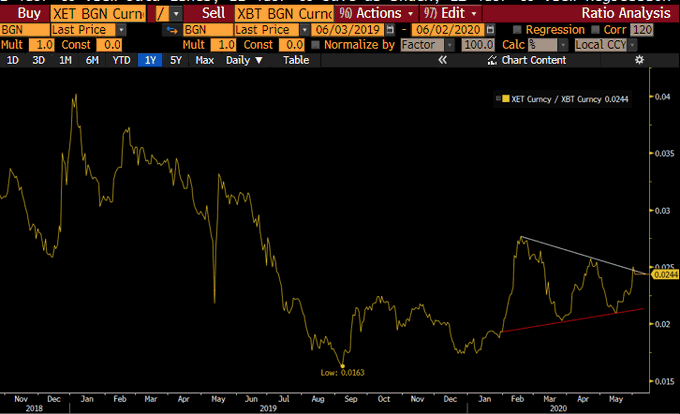 Bitazu Capital's Mohit Sorout, too, has weighed in on the debate.
Sorout said that it is "quite possible that ETH has printed a major cycle low [against Bitcoin]" in April, citing two key factors on its chart:
ETH/BTC has begun to print consecutive higher lows and higher highs, indicative of a reversal.
And the directional movement index (DMI) indicator has recently crossed bullish.
Positive fundamentals galore
Ethereum has also experienced or is set to see a flurry of positive fundamental events that may see it outperform BTC.
For one, certain metrics show that the usage of the blockchain and the underlying cryptocurrency is reaching levels not seen since the 2017/2018 bubble or since ever. Ryan Watkins, a research analyst at crypto data firm Messari, recently said:
"In short, Ethereum is being used more than ever, and in just two years, Ethereum has evolved from a blank canvas to an agglomeration of novel forms of value and use cases."
This was made in reference to the parabolic explosion in the value of stablecoins based on Ethereum, along with the growing value of fees being received by miners. 
Adding to the bull case, Ethereum 2.0 continues to draw ever closer. This is important because the introduction of the blockchain upgrade is believed to be a massive catalyst for ETH's growth due to it decreasing the incoming supply of ETH while also increasing demand.
The post Ethereum chart prints "major bullish signs" as explosive move against Bitcoin nears appeared first on CryptoSlate.
——————–
By: Nick Chong
Title: Ethereum chart prints "major bullish signs" as explosive move against Bitcoin nears
Sourced From: cryptoslate.com/ethereum-chart-prints-major-bullish-signs-as-explosive-move-against-bitcoin-nears/
Published Date: Mon, 08 Jun 2020 14:00:40 +0000