Many cryptocurrencies have gone parabolic over recent weeks.
Take the example of Cardano (ADA), which has rallied in excess of 600 percent since the March lows and over 60 percent since the start of June.
Or take another example, Kyber Network (KNC). The altcoin is up by 200 percent in the past three months, reaching highs not seen since May 2018.
According to crypto research and data firm Messari, the driving force in much of the altcoin market right now and over the past year is staking.
Staking is likely driving the parabolic rallies in Cardano, 0x, Kyber Network, and others
To most market participants, the altcoins that have been rallying may seem like a random mix. But, according to Messari, a running theme through the recent crypto market action is staking.
The way in which staking is implemented differs from blockchain to blockchain and protocol to protocol, but the gist of the concept is as follows: users can lock cryptocurrency into a smart contract, then receive returns for keeping those assets there.
Messari shared the chart below on Jul. 10, showing that many cryptocurrencies that have staking strongly outperformed in the three months preceding the launch of the technology.
Elrond (ERD) rallied 639 percent in the three months leading up to its staking launch
Zilliqa (ZIL) rallied 432 percent in the three months leading up to its staking launch
Kyber Network rallied 206 percent in the three months leading up to its staking launch
Cardano rallied 175 percent in the past two months and one week, and there's still three weeks to the staking launch
Matic Network (MATIC) rallied 79 percent in the three months leading up to its staking launch
And 0x (ZRX) rallied 45 percent in the three months leading up to its staking launch
Two cryptocurrencies that recently launched staking, Synthetix (SNX) and Harmony (ONE), actually fell in the three months ahead of their respective upgrades. But, both rallied strongly after their staking systems were activated.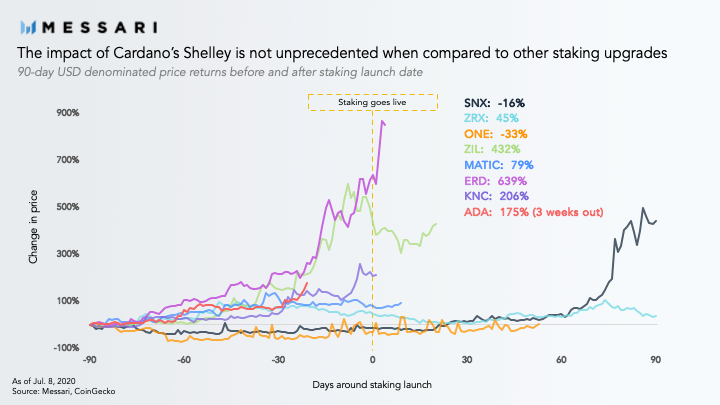 According to Messari researcher Wilson Withiam, the extremely strong performance of crypto assets activating staking can be attributed to investors seeking yield in a yield-starved industry:
"In an industry starved for yield, staking is in high demand. And investors should pay attention to new staking as potential catalysts for price action."
Ethereum to follow suit
Although there are countless other crypto projects are working on staking technologies, the most notable of these is Ethereum.
Through an upgrade dubbed "Ethereum 2.0" — which is in reference to how the whole blockchain will be overhauled — developers will activate Proof of Stake.
Investor Adam Cochran believes that the introduction of staking will spur a massive Ethereum bull run that will mark the "largest economic shift in society" ever. His explanation for that strong assertion can be found here.
Unfortunately, it was revealed today that Ethereum 2.0 may be delayed until early 2021 from Q3 2020.
The post Here's what triggered the parabolic surges in Cardano, Kyber Network, and Matic appeared first on CryptoSlate.
——————–
By: Nick Chong
Title: Here's what triggered the parabolic surges in Cardano, Kyber Network, and Matic
Sourced From: cryptoslate.com/heres-what-triggered-the-parabolic-surges-in-cardano-kyber-network-and-matic/
Published Date: Sat, 11 Jul 2020 20:42:42 +0000