Despite a pandemic ravaging the world's economies, data shows that there's been a concerted effort amongst institutions to gain exposure to Bitcoin and cryptocurrency.
CME Bitcoin call options outweigh put options 56:1
According to crypto derivatives publication Ecoinometrics, there has been a parabolic increase in call options that institutions hold via the CME's institutional-centric Bitcoin market.
In fact, there are 56 BTC in call options for every one BTC in put options, according to the publication.
Call options are financial contracts that allow the buyer to buy an asset at a specific price in a specified time period. They are used by investors who want to gain from an asset appreciating in value. Calls can offer outsized gains compared to just holding Bitcoin in an exchange or hardware wallet.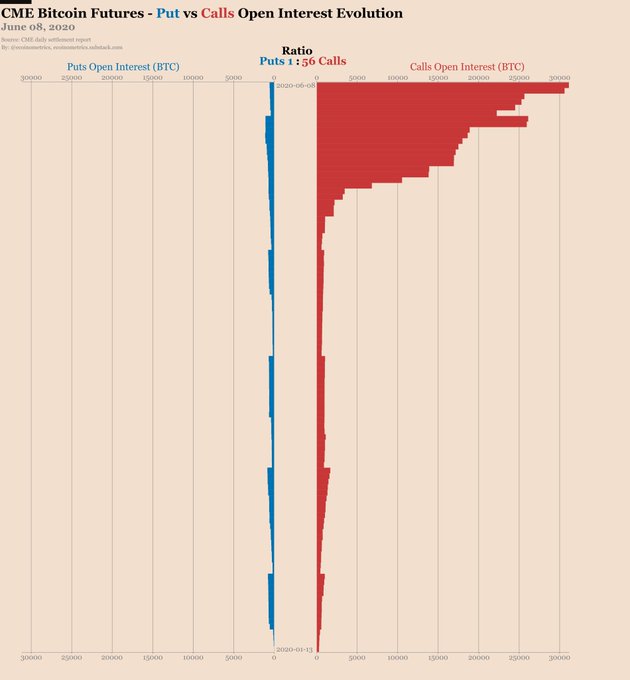 As it stands, there is about $300 million worth of call options betting that Bitcoin appreciates in the coming months.
Not 100% bullish for Bitcoin per se
This doesn't mean that institutions are 100% long on Bitcoin per se.
Although buying a call option in isolation means that you want to benefit from an asset increasing in value, for institutions, options can be a way for them to hedge their other positions.
If they've built a heavy short position in Bitcoin through futures, they could hedge downside risk by buying calls as they may be unwinding their short or if they find an arbitrage opportunity.
Furthermore, there is someone taking the sell-side on the $300 million worth of call options.
It is likely a market maker injecting liquidity into the CME's Bitcoin market. Yet market makers often trade without a trend bias, and will thus hedge their growing sales of call options through other derivative products. As one commenter explained:
"Options market makers hedge their calls by buying or selling other calls or puts and by buying and selling futures based on their positional delta."
The bottom line: there's a rapidly growing demand amongst institutions to trade Bitcoin.
Institutions are growing bullish
There is uncertainty around the insinuations that can be made by looking at the CME's Bitcoin market, but there is evidence showing that there are certain institutions wanting to build net long positions in Bitcoin and cryptocurrency.
Billionaire investor Paul Tudor Jones, for instance, revealed in May that he wants to build a long position in Bitcoin through futures that amount to 1-3 percent of his company's billions in dollars worth of funds.
Jones, who is one of the world's foremost macro investors, sees Bitcoin as "the fastest horse" in a world where fiat money is being debased at a rapid pace, referencing the vast amounts of stimulus that have entered the economy in recent weeks. 
The post Institutional traders own more than $300 million in Bitcoin contracts betting on a rally appeared first on CryptoSlate.
——————–
By: Nick Chong
Title: Institutional traders own more than $300 million in Bitcoin contracts betting on a rally
Sourced From: cryptoslate.com/institutional-traders-own-more-than-300-million-in-bitcoin-contracts-betting-on-a-rally/
Published Date: Thu, 11 Jun 2020 13:00:16 +0000