There are some that don't think highly of 4chan — the anonymous messaging board. If you look at news regarding the site, some of it isn't the most flattering. But over recent years, 4chan has gained influence in the Bitcoin and crypto industry, with its business and finance board ("biz") acting as a conduit for that influence.
One venture capitalist in the space went as far as to say that "4chan has become the largest market driver" in crypto. And as crazy as that may sound, CryptoSlate's data suggests he's kind of right.
What's behind the wheel of the crypto market? 4chan, apparently
According to Andrew Kang, founder of Mechanism Capital and a prominent crypto analyst, said on Jul. 20 that the importance of 4chan to the industry cannot be understated.
"One of the most interesting market dynamics at play right now is that 4chan has become the largest market driver. More powerful than even China or institutional crypto fund capital right now."
He used the example of Swipe (SXP) to convey this point.
CryptoSlate data indicates that the altcoin, which is closely affiliated with Binance after a recent acquisition, is up 200 percent in the past week alone and close to 400 percent since its April lows.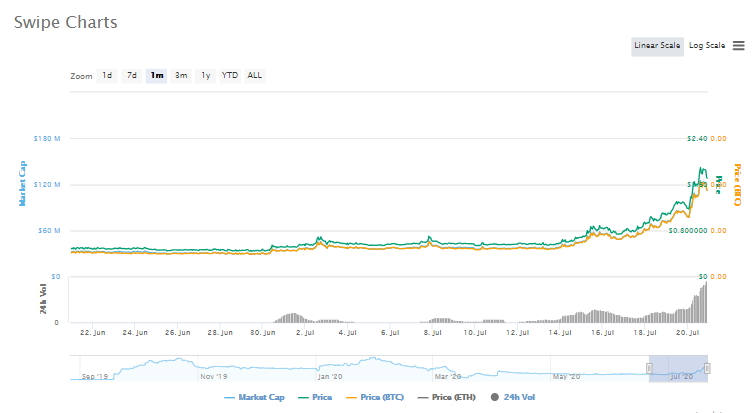 According to Kang, much of this recent price performance can be attributed to the crypto investors/traders on 4chan.
The venture capitalist shared a screenshot of a thread on 4chan's biz forum, which saw an anonymous user tell readers to "MAN UP" and buy Swipe due to "Binance cards, 20 million users, biggest and most liquid exchange covering everything, established partners, a chainlink node, 2,000+ app store reviews, and a market cap under $100 million."
CryptoSlate's recent browsing of the page saw many other "anons" shilling the cryptocurrency incessantly.
The Mechanism Capital investor added that 4chan's biz has long had influence over this nascent market:
"/biz/ was pretty influential as well and my primary source of deal flow in 2017, but then everyone there got broke as shit in 2018 buying shit like Raiblocks, Icon, Wabi, etc. at the top."
Really?
What Kang is saying has credence.
Some of the best-performing cryptocurrencies over the past few weeks and months are the following: Chainlink (LINK), Cardano (ADA), Ampleforth (AMPL), Aave's LEND, Synthetix Network Token (SNX), Band Protocol (BAND), and THORChain (RUNE).
The running theme between all of them, according to CryptoSlate's viewing of the forum, is that all of them have an active following on 4chan.
There is no project that makes this trend more apparent than Chainlink, which some analysts argue is purely a byproduct of anons from 4chan promoting the asset in every corner of the internet.
Daryl Lau, a research analyst at crypto data site CoinGecko, has also noted that 4chan is responsible for sending an Ethereum-based altcoin 10,000 percent higher in two hours. 
The post Investor: 4chan has become crypto's "largest market driver" after Chainlink boom appeared first on CryptoSlate.
——————–
By: Nick Chong
Title: Investor: 4chan has become crypto's "largest market driver" after Chainlink boom
Sourced From: cryptoslate.com/investor-4chan-has-become-cryptos-largest-market-driver-after-chainlink-boom/
Published Date: Wed, 22 Jul 2020 11:00:32 +0000