Certain crypto assets have performed extremely well over the past few weeks.
Ethereum-based Maker (MKR), the native asset of the MakerDAO ecosystem, is up 120 percent in the past month alone. Cardano is up approximately 80% in the past three weeks.
Though this strength hasn't been reflected in all altcoin investments.
According to Coin360.com, XRP is down four percent in the past month. To put that into context, over the past month Bitcoin saw a six percent gain while Ethereum surged 22 percent.
A prominent technical analyst and traders expect this price action to be a precursor to a brutal crash in the price of XRP that will see it fall to levels not seen in years.
Veteran trader Peter Brandt: XRP could plunge 90% against Bitcoin
In May, Peter Brandt, a commodities trader since 1980 and a noted Bitcoin investor and bull, suggested that XRP holders were mounting a "desperate last stand," writing how a key support level was about to break because of "sellers [the most aggressive] since Oct' 19."
Unfortunately for XRP bulls, the level that Brandt identified recently broke, leading him to comment on the asset yet again.
On Jun. 10, Brandt wrote that investors "ha[ve] blown the wad allocated to support XRPBTC at 2,060 satoshis to 2,075 sats levels."
According to him, if the cryptocurrency fails to reclaim that zone, there will be a 90 percent drop to 194 sats "on way to 145 sats," which would decimate the market capitalization of XRP, likely dropping it out of the top 10 cryptocurrencies.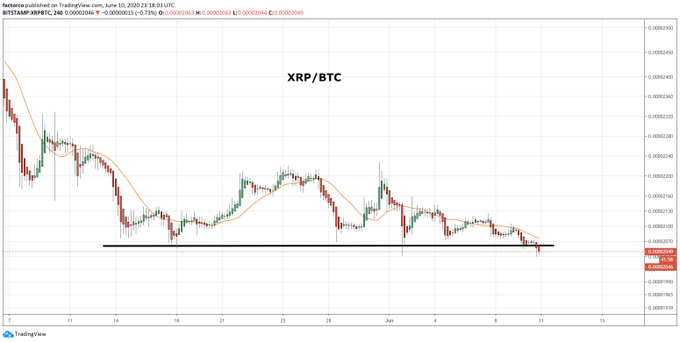 The reason why Brandt put so much emphasis on the 2,060-2,075 sats level marked above is that it has held as macro support for the cryptocurrency multiple times over the past month and also in 2017 as well.
The support Brandt identified also marked the top of one XRP rally in 2015 and one in 2016, further accentuating its macro importance to the asset.
He's fundamentally against altcoins
Although the technical analysis in his charts is likely valid, it is important to note that he is fundamentally against XRP.
In May, Brandt wrote that while "wannabes accuse" him of simply "being a hater" of XRP, he's anything but.
"In 45 years as a career market speculator, I've come to discern the real deals from the possible scams I've only attempted to warn people that $XRP is a manipulated market & a dead end," the trader wrote.  
The trader's main gripe with the cryptocurrency is that it is largely owned by a small group of players, which can sell XRP into the market en-masse, thus depressing prices.
A Messari research analyst implied that XRP's underperformance is because the asset has a circulating supply inflation rate 900 percent that of BTC.
Brandt is also against "99%" of altcoins, remarking in late 2019 that "99% of other cryptos will be forgotten five years from now."
The post Prominent Bitcoin trader expects XRP to plunge 90% as price breaks below crucial support appeared first on CryptoSlate.
——————–
By: Nick Chong
Title: Prominent Bitcoin trader expects XRP to plunge 90% as price breaks below crucial support
Sourced From: cryptoslate.com/prominent-bitcoin-trader-expects-xrp-to-plunge-90-as-price-breaks-below-crucial-support/
Published Date: Fri, 12 Jun 2020 07:00:44 +0000