As the price of Ethereum rises, the incentive its holders have to sell it increases. Yet data is showing that many holders of the cryptocurrency are opting to use the coin in decentralized finance (DeFi), not sell it.
This trend may be pivotal for ETH's bull case moving forward, say a number of analysts who believe DeFi will be pivotal for Ethereum's long-term bull case.
Ethereum locked in DeFi metric is spiking
According to DeFi Pulse data shared by crypto commentator "DCInvestor.eth," the number of ETH locked in decentralized finance protocols has gained nearly 30 percent in the past 30 days.
"Here's a chart which didn't correct last night, and it's up by nearly 30% over the past month. More people are LOCKING & USING their $ETH as a high quality collateral asset / store of value, to use in #DeFi on #Ethereum."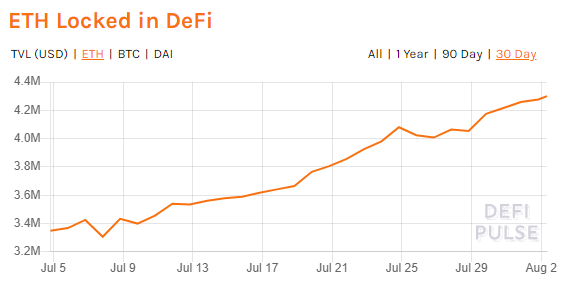 This number has reached 4.3 million ETH, which means that 3.83 percent of all of the cryptocurrency in circulation is currently allocated to protocols like MakerDAO and Compound.
Again, this growth comes in spite of the most bullish rally in the price of ETH since the 2018 blow-off top. In the past 10 days alone, the cryptocurrency has gained 50 percent against the dollar, even factoring in a 26 percent flash crash that transpired on the evening of Aug. 1.
DeFi protocols experiencing the biggest Ethereum inflows over the past day include dYdX, Nexus Mutual, Bancor, and Aave.
dYdX and Aave are decentralized lending protocols, meaning an uptick in the Ethereum they hold may suggest investors are using their ETH to gain leveraged exposure to either more Ethereum or supported altcoins.
Bullish for ETH
Analysts say that this trend of rapid, even parabolic growth in the DeFi space is boosting the long-term case for owning Ethereum.
Josh Olszewicz, an analyst at Brave New Coin, commented in July that he thinks a reason why Ethereum was then trading over 80 percent below its $1,450 all-time high was because of selling pressure from the operators of initial coin offerings. ICOs in 2017 and 2018 almost solely raised ETH, leading to persistent selling pressure throughout the past two years.
DeFi has the potential to change this, as more and more Ethereum will get locked into DeFi smart contracts over time, reducing the amount of ETH that can be sold on the market.
According to the hosts of the "Bankless" podcast — David Hoffman of tokenized real estate platform RealT and Ryan Sean Adams of crypto fund Mythos Capital — this should cause ETH to appreciate in the long run.
The optimism about DeFi's effect on the ETH price has been echoed by Raoul Pal, a former head of hedge fund sales at Goldman Sachs.
As reported by CryptoSlate previously, Pal opined in a research note published earlier this year:
"I am getting increasingly bullish on Ethereum. ETH is the silver to Bitcoin's gold. It has more industry uses and less store of value uses… ETH is all about adoption rates and usage. Basically, it's all down to something called DeFi. "
The post The amount of Ethereum locked in DeFi is up almost 30% in a month appeared first on CryptoSlate.
——————–
By: Nick Chong
Title: The amount of Ethereum locked in DeFi is up almost 30% in a month
Sourced From: cryptoslate.com/the-amount-of-ethereum-locked-in-defi-is-up-almost-30-in-a-month/
Published Date: Mon, 03 Aug 2020 21:00:23 +0000