After a coordinated attack caused hundreds of high-profile Twitter accounts to be compromised yesterday, mentions of cryptocurrencies on social media skyrocketed.
According to data from cryptocurrency analytics company LunarCrush, social mentions of Bitcoin increased by 343 percent in the past 24 hours, while social engagement Bitcoin has seen on various networks increased by 658 percent.
Bill Gates and Elon Musk targeted by latest Bitcoin giveaway scam
Twitter has been ablaze in the past 24 hours, as news about a major hack spread through the platform like wildfire. It first began when a number of Bitcoin traders and cryptocurrency exchanges saw their accounts hijacked, tweeting about a Bitcoin scam called "CryptoForHealth." The scam quickly spread beyond crypto Twitter, with Elon Musk, Kanye West, Jeff Bezos, Joe Biden, Barack Obama, and Bill Gates all sharing the scam.
As most similar scams do, this one called on users to send Bitcoin to an address in order to qualify for a 5,000 BTC giveaway.
Hundreds of high-profile verified Twitter accounts were targeted by the scam, which Twitter Support called a "coordinated social engineering attack." The hackers most likely targeted some of Twitter's own employees and managed to gain access to internal systems and tools that allowed them to hijack the accounts. As of press time, the hackers managed to steal away just over $100,000 worth of BTC.
Cryptocurrencies get under the spotlight
While cryptocurrency scams like this are fairly common in the industry, the fact that it targeted some of the most influential politicians and artists makes it very unique. Despite being resolved in a matter of hours, the scam managed to reach hundreds of millions of people.
Many believed that the bad publicity will certainly do more harm than good to Bitcoin, as the mainstream media still has a tendency to see the crypto market as dangerous and unreliable. However, the immediate consequence of the hack seems to have had an overall positive impact on Bitcoin adoption.
According to data from cryptocurrency analytics company LunarCrush, the social media engagement surrounding Bitcoin skyrocketed in the past 24 hours, with several metrics even reaching their all-time highs. LunarCrush leverages artificial intelligence and machine learning to analyze social trends in the crypto industry and deliver real-time trading insights.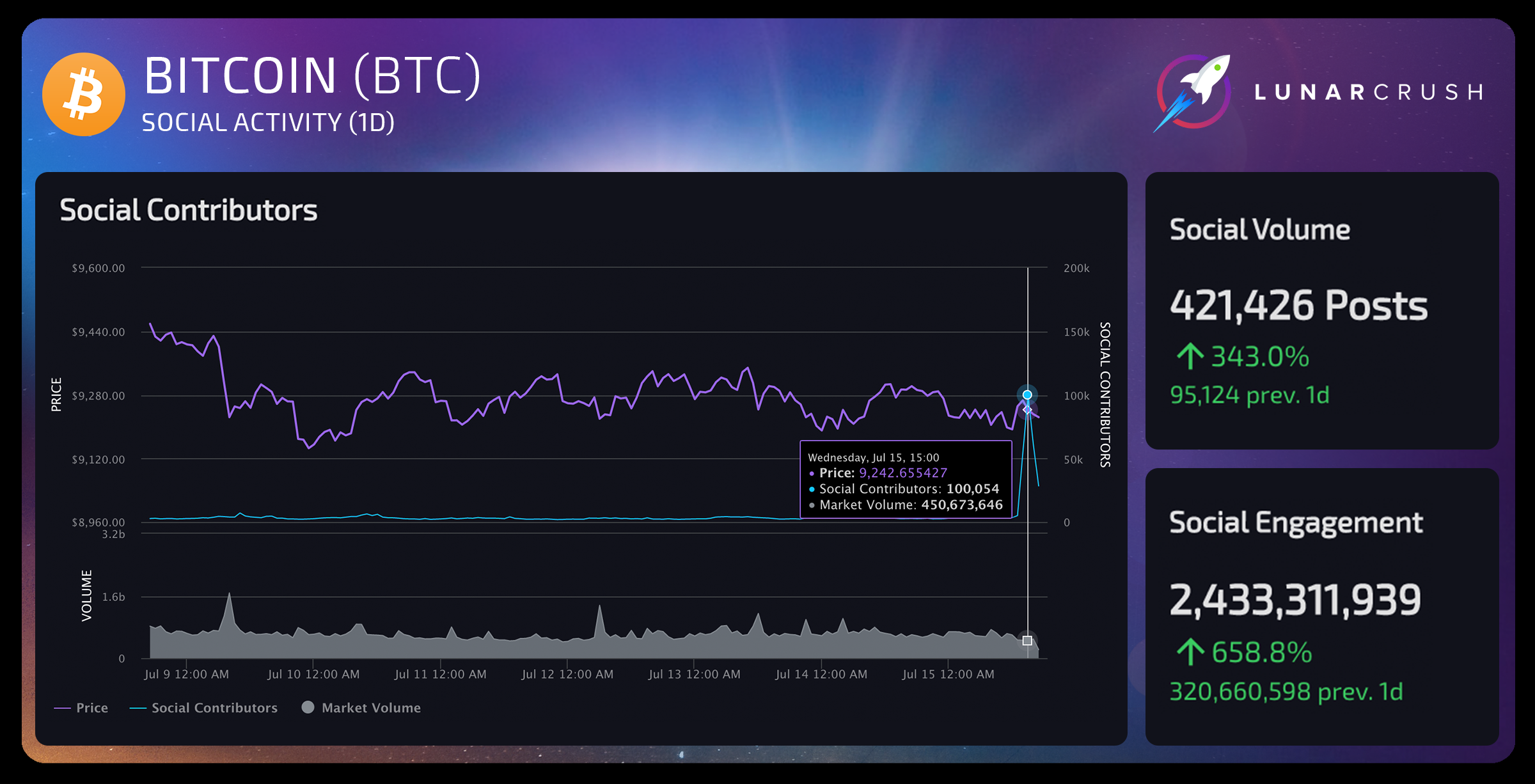 The overall social engagement for Bitcoin increased by 889.2 percent in the past 24 hours, with LunarCrush's data currently registering over 3.8 billion posts, comments, retweets, and likes across all social media channels. The overall social volume for Bitcoin increased by almost 500 percent since yesterday.
Judging by the data provided by LunarCrush, the Twitter hack turned out to be an overall positive event for Bitcoin. While Twitter will be dealing with the aftermath of such a hight-profile security breach for weeks to come, it seems that the only outcome for Bitcoin was a turbo-charged increase in awareness in the mainstream media.
If no publicity is bad publicity, then the hack was a net positive for Bitcoin.
The post Twitter hack exploded the popularity of Bitcoin on social media appeared first on CryptoSlate.
——————–
By: Priyeshu Garg
Title: Twitter hack exploded the popularity of Bitcoin on social media
Sourced From: cryptoslate.com/twitter-hack-exploded-popularity-of-bitcoin-on-social-media/
Published Date: Fri, 17 Jul 2020 10:00:57 +0000