After months of stagnation, crypto bulls are back. In the past 24 hours, nearly all leading crypto assets have gained against the U.S. dollar. Bitcoin, for one, has rallied almost eight percent in the past 24 hours according to CryptoSlate data.
Even altcoins that strongly underperformed in 2018 and 2019 are breaking out.
In the past 24 hours, XRP has gained 3.2 percent. And over a week's time, the asset has gained 13.28 percent. While the popular altcoin is actually underperforming BTC on a daily time frame, it is matching the speed of the leading cryptocurrency on a weekly time frame.
XRP bulls see this price performance as a positive sign, but the asset still has a far way to go until it reaches its all-time high price in excess of $3.00.
XRP needs to rally over 1,000% to hits its all-time high price
Believe it or not, in early 2018, XRP reached an all-time high of $3.40 on leading exchanges. Even with the recent rally, though, the asset remains far from this all-time high.
At current prices as per CryptoSlate, the asset is down just over 93 percent from its all-time high. That's to say, to revisit $3.40, it will need to rally just under 1,500 percent.
For context, Bitcoin is down 45 percent from its $20,000 all-time high at its current market price of $11,000.
Unfortunately for holders of the asset, the cryptocurrency is facing down some bearish trends, despite Ripple Labs — the fintech company that is in ways the biggest supporter of XRP —  building strong partnerships since the 2018 bull run.
In a report released recently, eToro and The TIE — a trading platform and blockchain analytics firm, respectively — reported that XRP's social volumes have actually been on the decline. Referencing the data below, which suggests XRP saw 21.81 percent fewer tweets during Q2 2020 than Q1, the companies wrote:
"While existing crypto investors became increasingly positive about the industry, there was no mainstream euphoria surrounding crypto post-halving. 73% of cryptos saw a decreased number of tweets in Q2."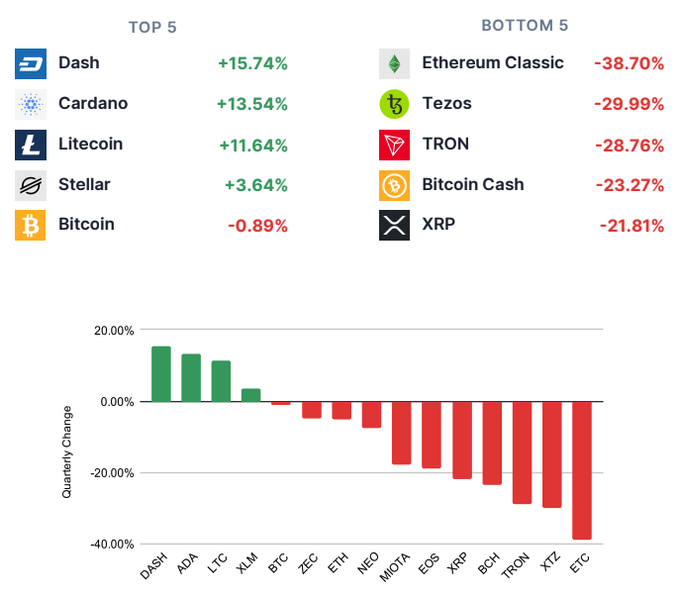 Peter Brandt, a long-time commodities trader, has also said that he is bearish on the cryptocurrency, recently saying that the asset could drop 90 percent against Bitcoin.
He added in a separate comment that he doesn't like how many XRP is centralized in the wallets of Ripple Labs, despite the company's executives arguing that they are naturally vested in the success of the asset, and thus would not do anything to warrantlessly suppress its price.
A Bitcoin-centric market
Unless Bitcoin establishes a range and volatility decreases, analysts aren't convinced altcoins will outperform.
Author of "An Altcoin Trader's Handbook," Nik Patel, recently said:
"Wouldn't surprise me to see dominance now rise until BTC all-time highs (pending a confirmed Weekly breakout above $10,600) > break $20k and alts find another bottom (like Nov/Dec 2016) > they rally concurrently like March-June 2017."
The post XRP needs to rally over 1,500% to reach its all-time high of $3.50 appeared first on CryptoSlate.
——————–
By: Nick Chong
Title: XRP needs to rally over 1,500% to reach its all-time high of $3.50
Sourced From: cryptoslate.com/xrp-needs-to-rally-over-1500-to-reach-its-all-time-high-of-3-50/
Published Date: Tue, 28 Jul 2020 15:00:20 +0000